✷ Premium Scissor Set with Sleek Design ✷
Are you a professional hairdresser looking for a new pair of long-lasting scissor sets? Or are you a beauty school student or apprentice looking for your first pair of scissor sets?
Whichever you are, this Timeless Cutting & Thinning Scissors Set is just the perfect thing for you!
With premium-quality built and sleek design, we doubt you'd find another pair that would suit you just as much.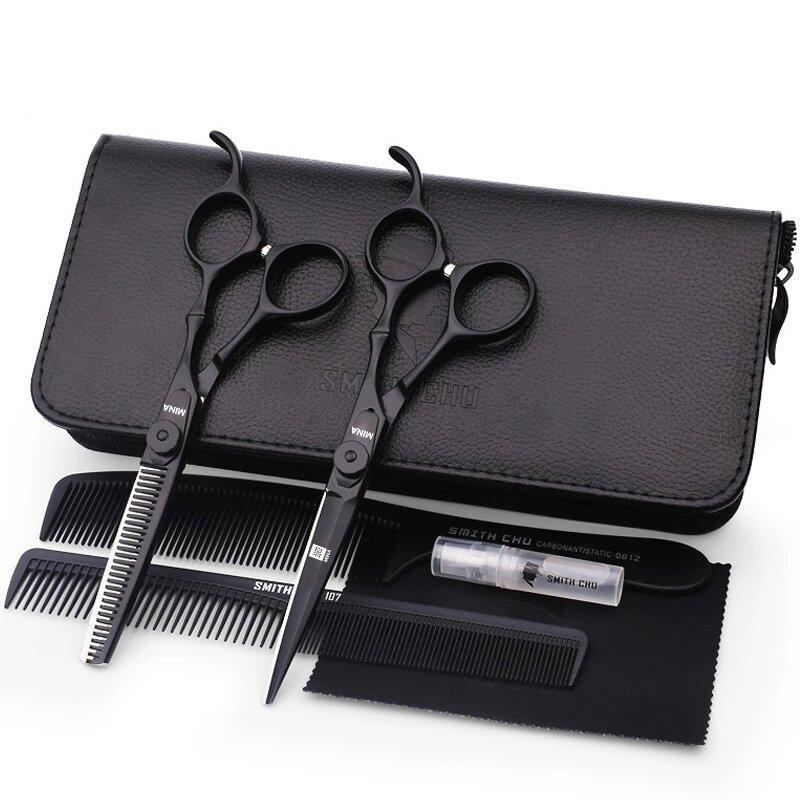 ✷ Made from Quality Materials with Ergonomic Design ✷
Made from high-quality cutting-grade steel, this quality scissor set ensures great durability while maintaining comfort.
The sharp blades are corrosion and wear-resistant, while its ergonomic offset handles are guaranteed to put your hand in a comfortable position, suitable for prolonged use.
Its sharpened flat edge blade and tension adjuster allows effortless silent cuts.
The thinning scissor has 30 fine teeth and v-shaped, with a thinning rate ranging from 20% to 30% and smooth texturizing motion.
✷ A Great Deal Like No Other! ✷
That's not all as this premium scissor set is also a great deal! For every purchase, we include a Maintenance Oil, Leather Cleaning Cloth, Two Combs, and an Leather Pouch, all for free!
They're beautiful, comfortable, durable, and just overall worth it purchases!
✷ FEATURES ✷
Corrosion and Wear Resistant - Outstanding High Durability!
Sharpened Flat Edge Blade and Tension Adjuster - Effortless Silent Cut Every Time!
A Great Deal Like No Other!
✷ SPECIFICATIONS ✷
Handle Position: Offset Handle
Steel: Stainless Alloy (7CR) Steel
Hardness: 55-57HRC
Cutting Edge: Thinning
Thinning: V-Shaped Teeth
Finish: Matte Black Finish
Weight: 46g Per Piece
✷ SIZE OPTIONS ✷
6" inch Cutting & 6" inch Thinning
✷ This Set Includes ✷
1x Timeless Cutting & Thinning Scissors Set
1x Leather Scissor Pouch, Maintenance Cloth, and Tension Key.