✷ Stylish Premium Hair Cutting Scissor ✷
If you're looking for a unique, premium quality hair cutting scissor, this Mina Matte Black Scissors. Stylish Matte Black all-rounder hair scissors.
Offset Set is just the perfect thing for you! Its gorgeous sleek matte black look is a look like no other!
One of the most popular entry-level Matte Black hair scissor sets available in Australia!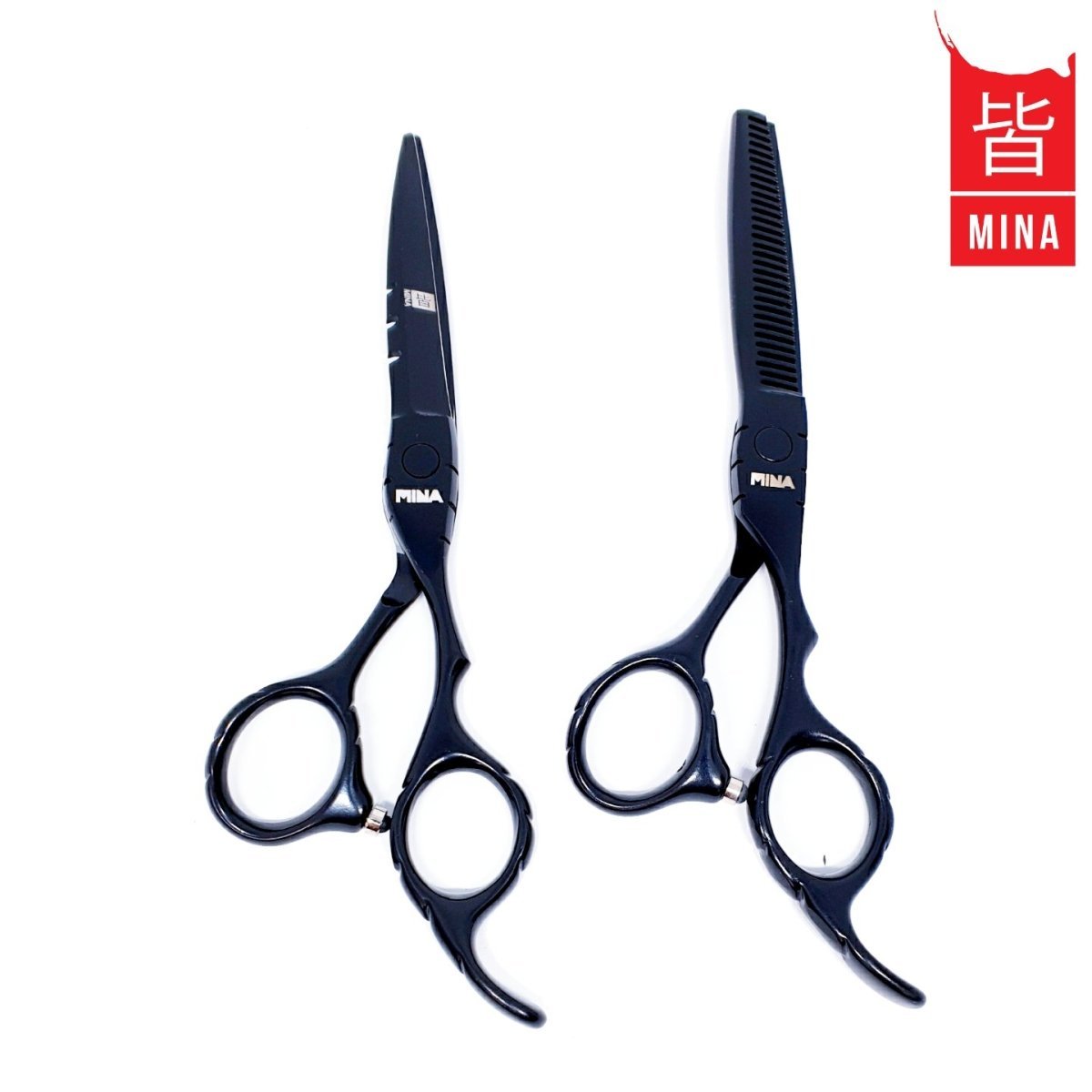 ✷ Comfortable for Long Use and Durable ✷
This scissor set is made from high-quality cutting-grade steel, ensuring great durability.
The sharp blades are corrosion and wear resistant, so you won't have to worry about your scissors breaking down over time.
It is intricately designed for your comfort with ergonomic offset handles, putting your hand in a comfortable position, suitable for prolonged use.
Its sharpened flat edge blade and tension adjuster allows effortless silent cuts. The thinning scissor has 30 fine teeth and v-shaped, with a thinning rate ranging from 20% to 30% and smooth texturizing motion.
✷ Comes with Many Free Gifts ✷
This scissor set is not just great for professional hairdressers, as it is also a perfect fit for apprentices, students, casual hairdressers, or others alike!
Aside from being durable, beautiful, and comfortable to use, this set is also a great deal for a premium scissor!
For every purchase, we include a Maintenance Oil, Leather Cleaning Cloth, Two Combs, and an Authentic Leather Pouch, all for free!
✷ FEATURES ✷
Unique Matte Black Look Like No Other!
Outstanding Ergonomic Design - Suitable for Prolonged Use.
Comes with Many Free Gifts!
✷ SPECIFICATIONS ✷
Handle Position: Offset Handle
Steel: Stainless Alloy (7CR) Steel
Hardness: 55-57HRC
Cutting Edge: Slice Cutting Edge
Blade: Convex Edge and Thinning/Texturising
Finish: Matte Black Coating
Weight: 42g Per Piece
✷ SIZE OPTIONS ✷
| | |
| --- | --- |
| 6" Cutting & 6" Thinning | 5.5" Cutting & 6" Thinning |
✷ This Set Includes ✷
1x Mina Matte Black Scissors Offset Set
1x Maintenance Oil, Leather Cleaning Cloth, Two Combs, and an Authentic Leather Pouch