✷ High Quality Premium Scissors ✷
Our Juntetsu Offset Cutting & Thinning Scissors is the perfect set for all professional hairdressers looking for a premium quality scissor.
Made out of premium materials, it is durable and designed for comfortable use. Perfectly suited for students or professional hairdressers, and barbers too!
✷ Excellent Sharpness & Effortless Cuts ✷
The Premium hardened VG10 steel used to create these scissors creates a sharp convex blade with excellent edges for the cutting scissor.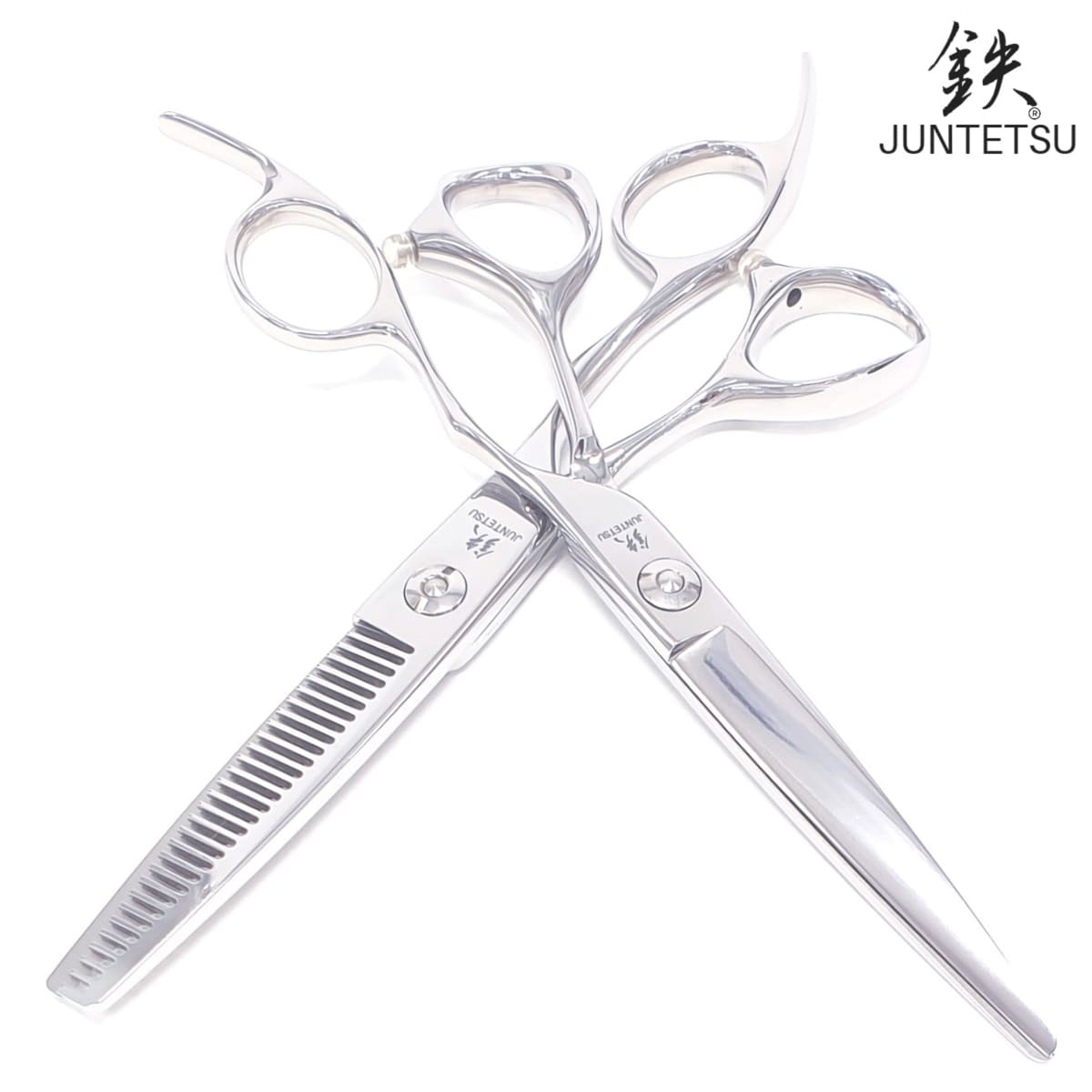 With such high quality, it ensures great durability, as a premium steel is guaranteed to hold a sharper blade.
The thinning scissor features 30 thinning teeth and V teeth serration. Both scissors are lightweight, effortlessly cuts with silent, smooth cutting motions.
✷ Excellent Value for Money ✷
This excellent set comes in 3 different size options, catering to your every need! For every purchase, we include a leather pouch, razor, blades, comb, oil brush, cloth, finger inserts & tension key, all for free!
Talk about excellent value for money!
✷ FEATURES ✷
Wonderful High-Quality Set
Cuts and Thins Out Excellently!
Handmade with Premium Materials
High Durability & Exceptional Sharpness.
Comes with Many Extra Gifts!
✷ SPECIFICATIONS ✷
Handle Position: 3D offset Handle
Steel: VG10 Steel
Hardness: 60-62HRC
Cutting Edge: Convex Edge & Serrated Teeth
Blade: Cutting & Thinning Scissor
Finish: Durable Polished Finish
✷ SIZE OPTIONS ✷
✷ This Set Includes ✷
1x Ichiro Offset Cutting & Thinning Scissors Set
1x Leather Pouch, Razor, Blades, Comb, Oil Brush, Cloth, Finger Inserts & Tension Key