✷ High-Quality Authentic Ichiro Thinning Scissors ✷ If you are looking for the best, Ichiro uses high-quality cutting steel to produce the best.
Every tool is made excellent for professional usage.
These shears are reliable hair scissors with comfortable ergonomics, hardened steel that holds a sharp cutting edge and is resistant to corrosion and wear.
✷ Lightweight, Balanced, Sharper Cuts ✷
Expect excellence from these fine shears.
The Ichiro Rose Gold Hair Cutting scissors are handcrafted with a simplistic offset design and engineered to be lightweight and have a perfect balance for professional use.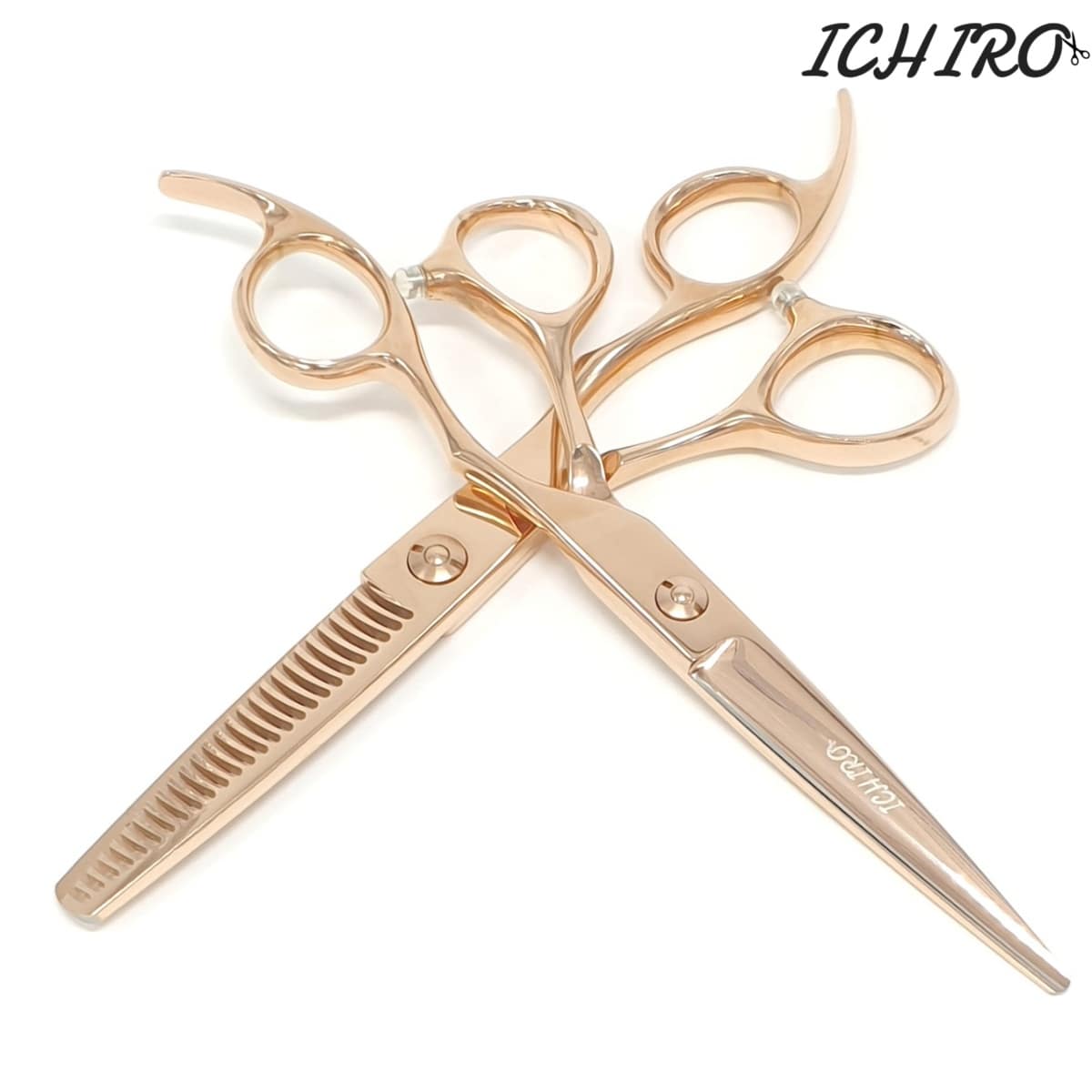 These have excellent convex edges that allow for sharp and smoother cuts.
✷ Comfortable and Reliable for Prolonged Usage ✷
Don't worry about hand injuries when using Ichiro Rose Gold Hair Cutting Scissors.
The craftsmanship of these is made to keep you cutting for hours without straining or injury (RSI).
The Ichiro Rose Gold Hair Thinning scissors have a normal thinning rate of 20%-25%, while wet hair's thinning rate is 25%-30%.
Ichiro Rose Gold shears use fine grooves on the teeth to ensure smooth thinning.
✷ FEATURES ✷
High-Quality Authentic Ichiro Hair Scissors
Comfortable and Lightweight for Prolonged Usage
Fine Grooved Teeth for Smoother Cuts
✷ SPECIFICATIONS ✷
Size: 6"
Handle Position: Offset Handle
Steel: 440C Steel
Hardness: 58-60HRC
Cutting Edge: Slice Cutting Edge & V-Shaped Teeth
Blade: Convex Edge Blade
Finish: Pink Rose Gold Polished Finish
✷ This Set Includes ✷
Set of 6" Ichiro Rose Gold Cutting & Thinning Scissors
Cleaning Cloth and Scissor Oil
Leather Pouch
Finger Insert, Razor, and Tension Key