✷ High Quality Authentic Ichiro Thinning Scissors ✷
Ichiro only uses high-quality cutting steel in creating professional hair tools. Reliable hair scissors with comfortable ergonomics, hardened steel that holds a sharp cutting edge and is resistant to corrosion and wear.
Amazing quality with amazing value!
✷ Comfortable and Beautifully Engraved ✷
The Ichiro Hana Hair Cutting scissors are handcrafted to be lightweight and have a perfect balance for professional use.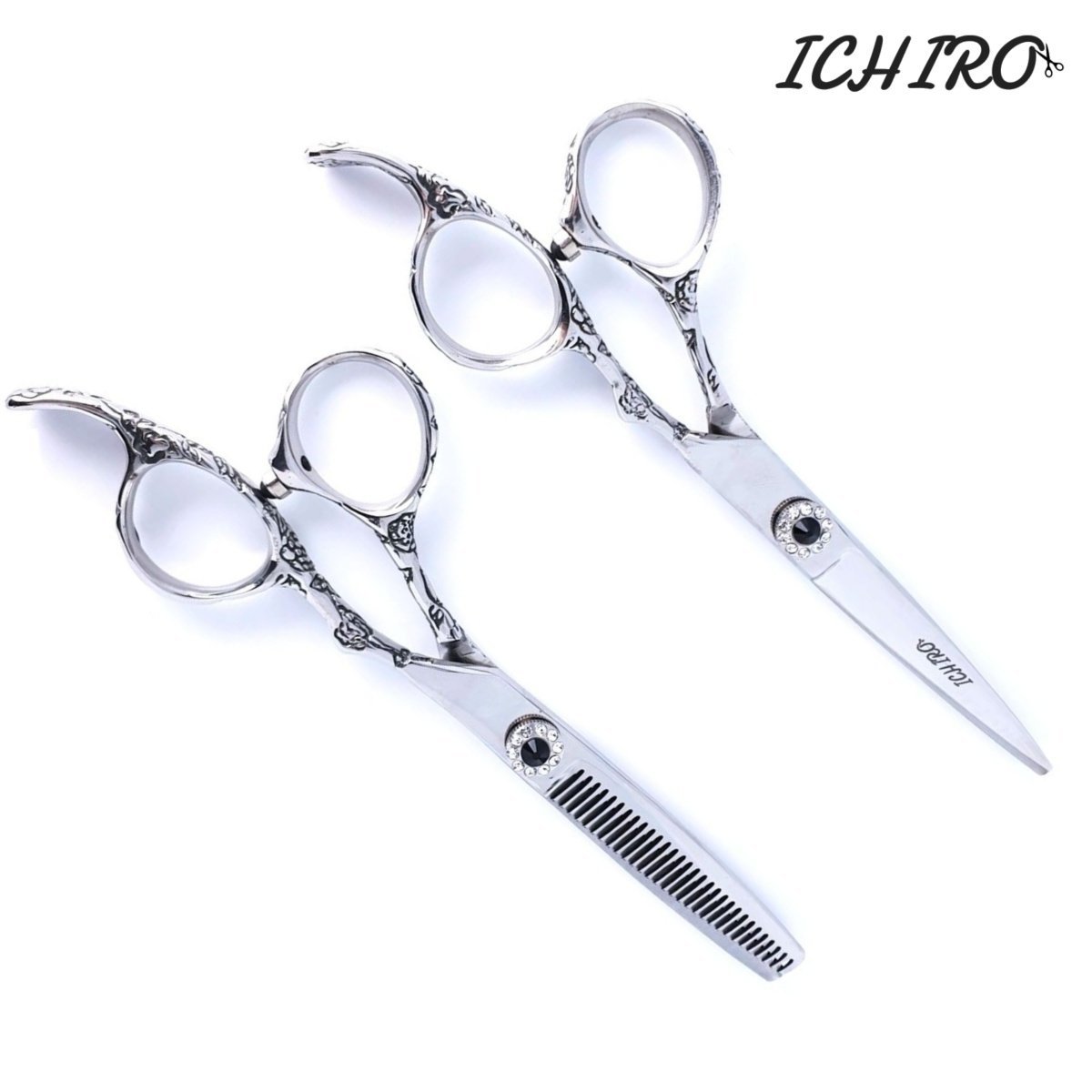 The slim design, unique handle engravings, and gem tension adjuster make these real head turners for hair-cutting scissors.
Worry not about injuring your hand easily for the lightweight helps you create beautiful smooth cuts.
✷ V-Shaped Teeth for Effortless Cuts ✷
Looking for the perfect hair shears? The Hana cutting scissor's blade is your answer.
Made perfect for everyday use with its sharp effortless cutting motions these shears are perfect for hairdressing techniques including slice cutting.
These thinning shears use v-shaped teeth for effortless thinning motions.
The texturizing rate for dry hair is 20% to 25% and wet hair is 25% to 30%, making these the best choice for your everyday hair thinning needs.
✷ FEATURES ✷
High-Quality Authentic Ichiro Hair Scissors
Comfortable and Lightweight for Prolonged Usage
Fine Grooved Teeth for Smoother Cuts
✷ SPECIFICATIONS ✷
Size: 6"
Handle Position: Offset Handle
Steel: 440C Steel
Hardness: 58-60HRC
Cutting Edge: Slice Cutting Edge & Thinning
Blade: Convex Edge Blade and Thinning/Texturising
Finish: Durable Polished Finish
✷ This Set Includes ✷
Set of 6" Ichiro Hana Cutting & Thinning Scissors
Cleaning Cloth and Scissor Oil
Leather Pouch
Finger Insert, Razor, and Tension Key