Kamisori Shears is a worldwide famous hair scissor brand for hairdressers and barbers.
Famous for their unique styles and attractive packaging, Kamisori is one of the most popular scissor brands for professional hairdressers and barbers in Australia. Kamisori Shears is quite possibly the most mainstream styling scissor marks because of their interesting style, proficient haircutting edges and generally notoriety.
Visiting another salon or barbershop and you will not be astounded to discover some Kamisori scissors on the counter.
Kamisori conveys a wide scope of expert hair scissors that include:
Long barbering hair shears
Stylish Black and Rose Gold Designs
Premium Damascus Steel Scissors
All-rounder haircutting and diminishing edges
If you are looking for a professional scissor brand that has all the right styles of limited edition and unique hair scissors, then Kamisori Shears is the best choice for you!
Kamisori hair scissors are available in Australia with free express shipping via AusPost or DHL/UPS direct from the manufacturer in Canada.
Browse the complete Kamisori shears collection in Australia Here!
Is Kamisori Shears Any Good For Professionals?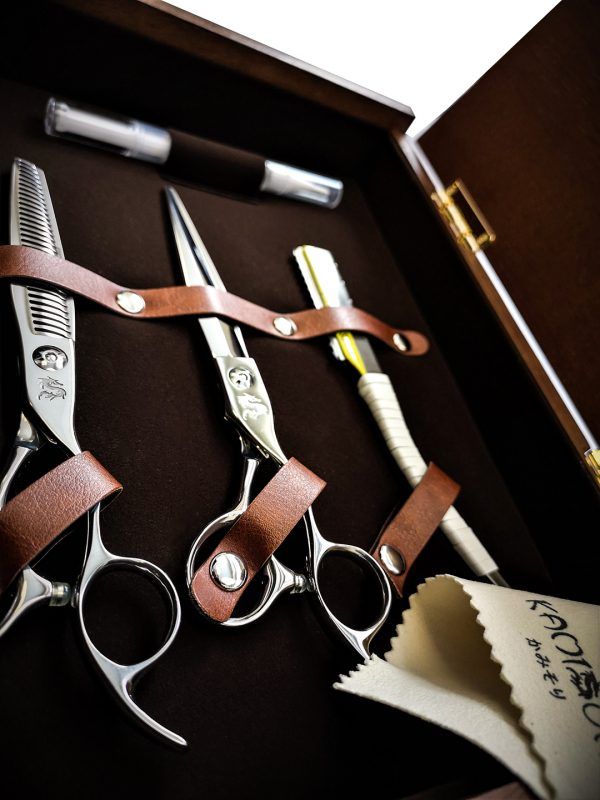 As one of the most popular hair scissor brands in Australia, Kamisori Shears delivers a good experience to every customer who orders through their premium haircutting scissors.
The good aspects of the Kamisori hair scissor brand include:
High-quality steel
Ultra-sharp hair scissor blades
Reliable products
Warranty
Unique styles and designs
Benefits Of Buying Kamisori Shears
You may be wondering if Kamisori is the right brand for you, so we have put together a quick check list of the reasons why you should be a pair of Kamisori scissors.
Kamisori uses simply the best hardened Japanese steel to produce their hair devices. Aside from that, their scissors have arched edged sharp edges.

Kamisori Scissors are a legitimate brand overall since it has won numerous honors globally. Notwithstanding, the honors demonstrate that Kamisori produces the best styling scissors. Additionally, they are the best scissors to purchase.

Convex-edged edges of the greatest quality go in the creation of Kamisori scissors. Thus, you can get an extraordinary point, cut, cleave, or different sorts of styling procedures effortlessly.

Each pair of Kamisori scissors has comfortable ergonomics. All things considered, they help you work for longer hours without getting drained.

The Limited Edition Scissor designs by Kamisori stand apart from the rest. Additionally, these scissors follow the most recent patterns and they are in vogue also.
With Kamisori hair scissors, you are paying a higher price, but you also get premium quality scissors that will last a lifetime.
They are made by professionals for professionals, so if you are wanting a pair that will give you the confidence to keep cutting your clients hair, one after another, then try give Kamisori a try!